Ceiling repair services in Bend, Oregon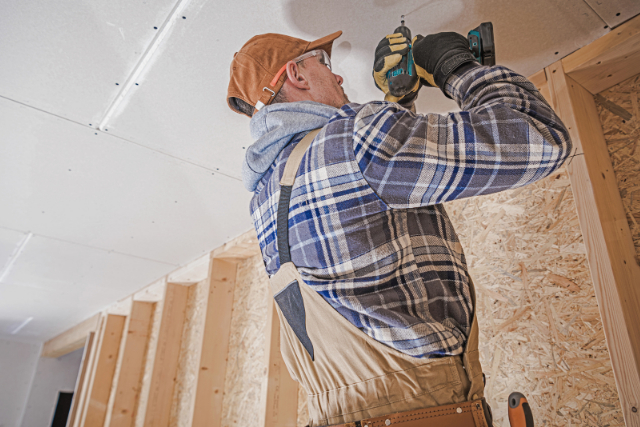 Much like walls, ceilings may need a touch up on occasion due to damage and staining caused by a leaky pipe, faulty roof, or another issue. Not addressing ceiling wear and tear is not only unsightly, it also opens the door to additional, more costly problems.
Our Bend, Oregon drywall professionals can help with affordable and efficient patching of residential and commercial ceilings. We pretty much do it all, including repair of holes and cracking plaster, and removal and replacement of outdated popcorn ceilings.
With the help of our licensed and insured contractors, you will soon enough that no matter the ceiling problem you are faced with – visual or structural – it doesn't have to be permanent. 
Trust our experts to deliver a solution that is quality and meets your budget, needs, and tastes. We promise you will be thrilled with the refreshed look and feel of your home or office.
Contact our local and experienced drywall company today for a free estimate and consultation for your property in Bend and surrounding areas.
Besides tending to big and small holes and water damage, our skilled and experienced crew also has the ability to remove all types of textured ceilings, including those hard-to-take down popcorn ceilings.
Popcorn ceilings were first seen in the 1960s and grew in popularity over the next 20 years thanks to their ability to cover up dings, dents, and other imperfections. Now, they are typically viewed as an outdated relic from grandma's house.
We can enhance your space by getting rid of popcorn for good and replace with it a modern texture that will make you feel good inside.
Trying to remove popcorn yourself can be a grueling DIY project that requires scraping, sanding, and applying new paint. If you are not careful, you may also damage the drywall behind the popcorn texture.
Our team can get the job done promptly while saving you time, stress, and money. We use drop cloths and other protective barriers to catch and stop debris from spreading to other areas of your house. We clean up after ourselves and leave your property in immaculate shape.
Top-rated drywall contractors near you in Bend, OR
What are you waiting for? Those holes, cracks, dings, and stains in your ceiling aren't going to magically fix themselves. Our local pros make repairs quickly and on your schedule. 
Plus, we take on jobs and projects both big and small for residential and commercial properties in Oregon. We fix any hole of any size and shape in any room or space. Thanks to our years of experience, we have developed a system that will leave you with stunning results that exceed your expectations.
Our technicians treat you and your home with respect that includes a thorough clean up that leaves no dust or debris behind for you to take care of. Instead, you will be left with a restored ceiling that looks like new.
If you want dynamic workmanship for your home improvement, get in touch with our drywall contractors to schedule installation or repair service at your convenience.
Call us today at 541-550-1001.